| | |
| --- | --- |
| | Summer Series Edition | Issue 069 |
Summer Series at St Angela's College Sligo – Intellectual Disability Nursing

The NMBI Summer Series event co-hosted with St Angela's College in Sligo was focused on Intellectual Disability Nursing, with the theme 'An Evolving Practice'.
CEO of the Nursing and Midwifery Board of Ireland (NMBI), Sheila McClelland, began proceedings by welcoming all attendees to the third NMBI Summer Series event which was also livestreamed to an online audience. An Irish Sign Language (ISL) interpreter was also provided.
NMBI President, Essene Cassidy also welcomed all attendees to the Sligo event, saying the discussions at each event had been organic and allowed to develop.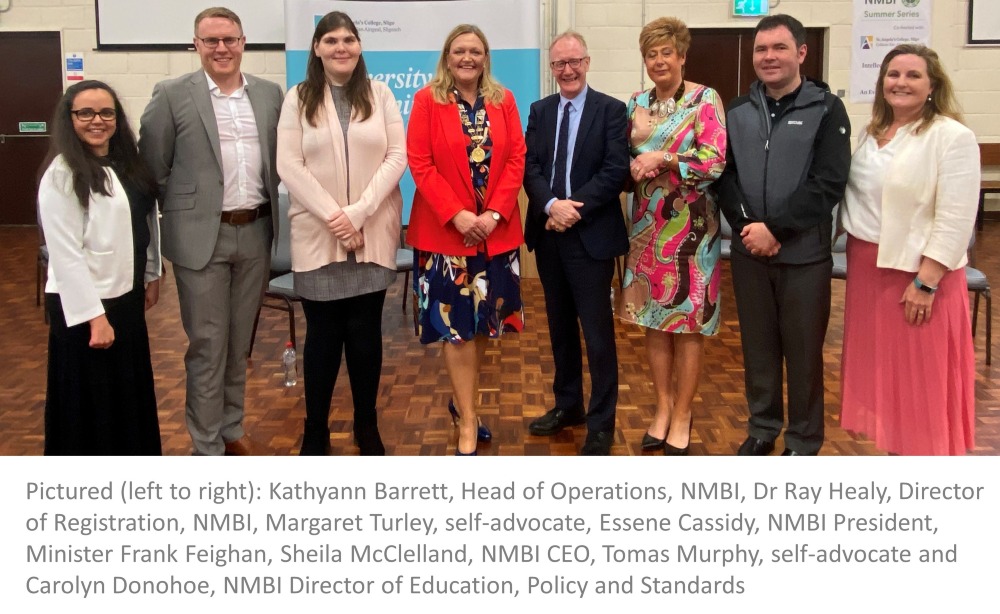 She also acknowledged and thanked everyone involved in the organisation of the event, in particular Dr Evelyn McManus, Acting Head of School of Nursing, Health Sciences and Disability. A special welcome was afforded to Minister Frank Feighan and Professor Ruth Northway from the Faculty of Life Sciences and Education, University of Wales.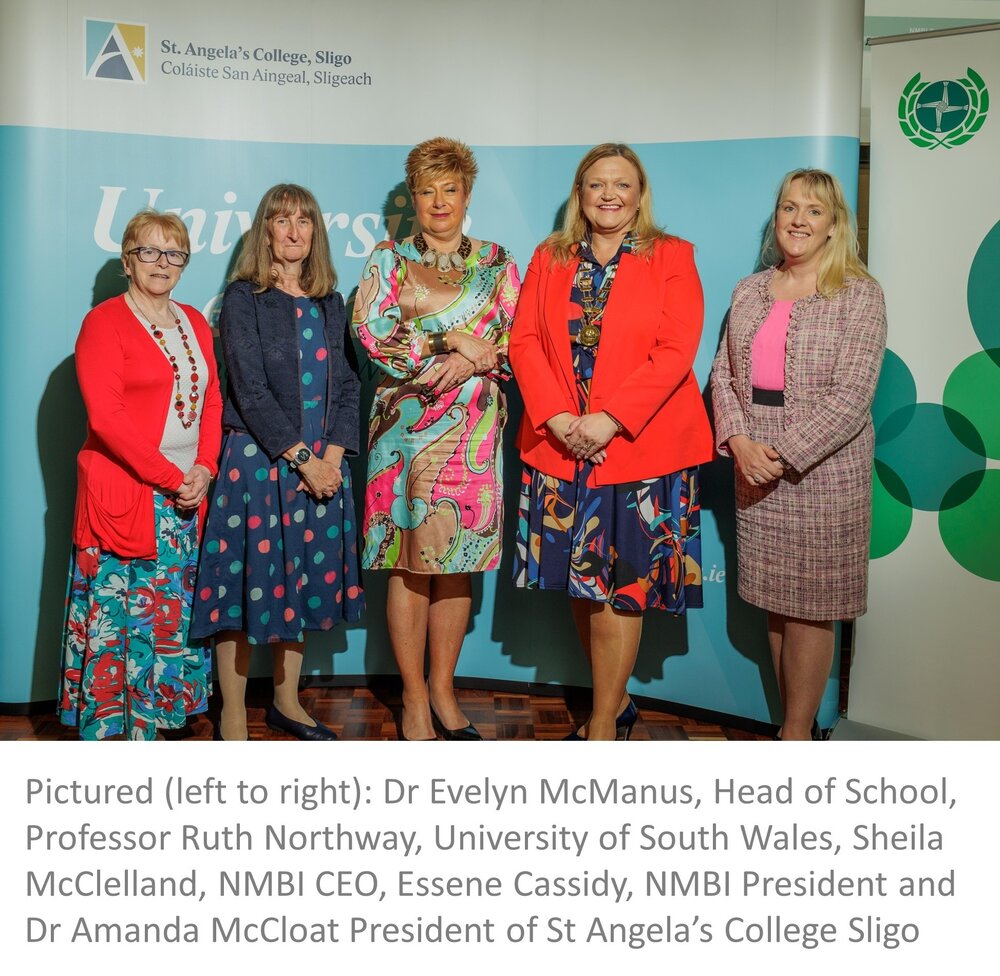 NMBI Director of Education, Policy and Standards, Carolyn Donohoe, presented NMBI demographics to attendees.
Seamus Dolan, Lecturer, Department of Nursing, Health Studies and Disability Studies, chaired an enlightening panel discussion. Each panellist had the experience of intellectual disability nursing from a different perspective including self-advocates Tomás Murphy and Margaret Turley.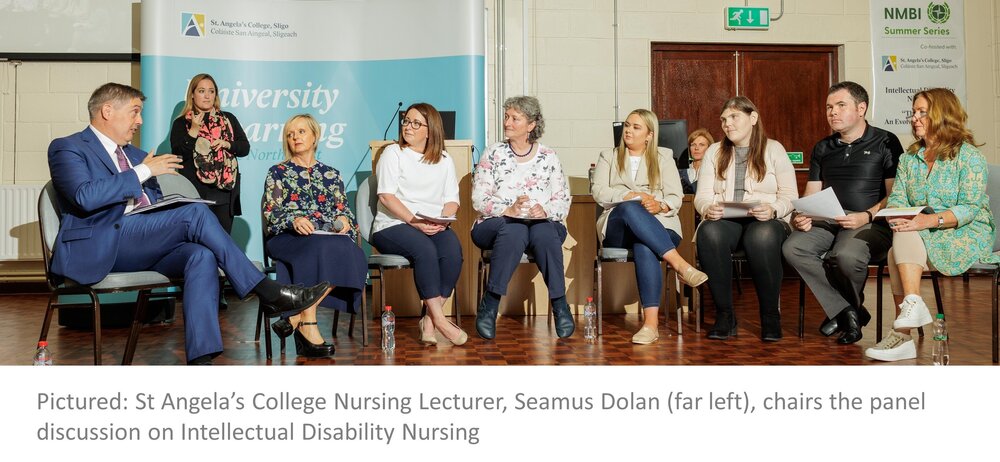 NMBI and St Angela's College were delighted that Ruth Northway, a professor of Learning Disability Nursing at the Faculty of Life Sciences and Education University of South Wales, was able to travel to Sligo for the discussion.
Special guest Minister Frank Feighan praised the interesting and informative discussion.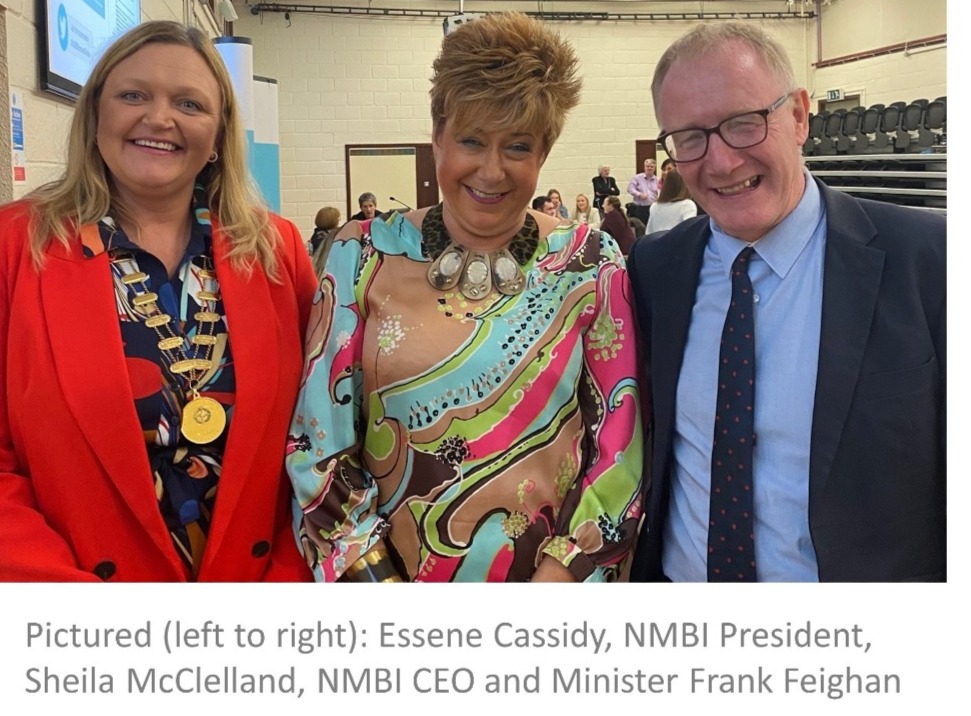 The Minister said RNIDs had a unique role and are ideally placed to support complicated care in the community during stages of life, to ensure the full potential of the individual is realised. RNIDs enable the voice of people with intellectual disabilities to be heard when accessing care, he said.
Ms McClelland thanked all those who took part in the discussion, acknowledging that service users need to be a continuous part of how RNIDs evaluate services. She also referred to comments by Tomás Murphy, who said services and society are continuously changing and everyone involved in nursing needed to be cognisant of that.
NMBI would like to thank Dr McManus and her senior team for their role in designing the programme for the evening, and for hosting the event on their campus.
You can read a full report on the St Angela's Summer Series event here.
Photography by James Connolly / Picsell8 Photography