| | |
| --- | --- |
| | Summer Series Edition | Issue 069 |
NMBI meets with Romanian Nursing and Midwifery Leaders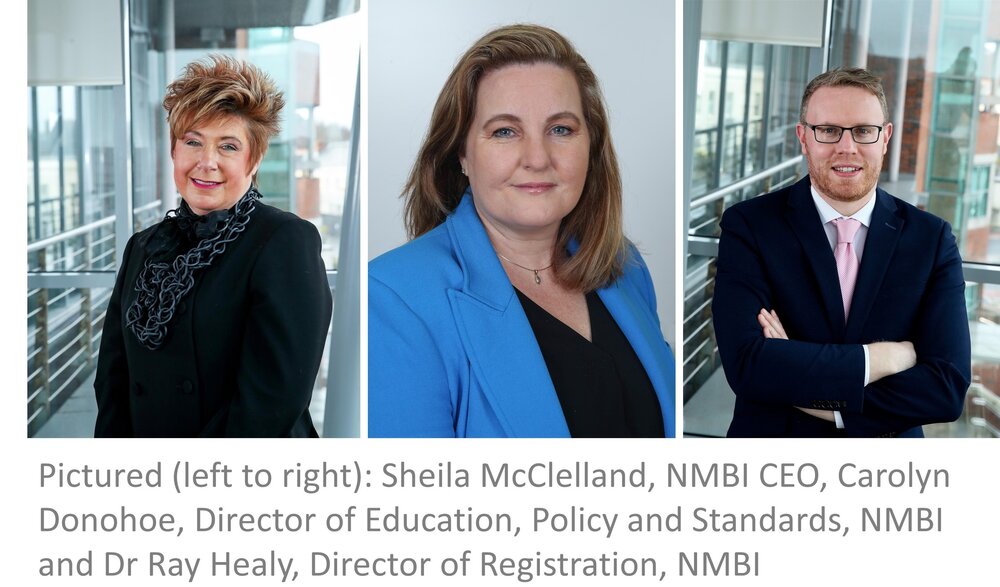 Members of the senior management team at the Nursing and Midwifery Board of Ireland (NMBI) have met with leaders in the professions from Romania as part of support for a leadership programme.
CEO Sheila McClelland, Director of Education, Policy and Standards Carolyn Donohoe and Director of Registration Ray Healy were invited to talk about the work of the regulator on three different days in May.
The meetings followed engagement between the Faculty of Nursing and Midwifery at the Royal College of Surgeons in Ireland (RCSI) Mircea Timofte, President, Romanian Council of Nurses and Government Chief Nursing Officer to develop a leadership programme for Directors of Nursing and Chief Nurses in Romania.
This programme was developed in conjunction the Executive Office of the Order of General Nurses, Midwives and Nurses in Romania and aims to empower senior leaders in Romania to advance the professions and practice of nursing and midwifery.
The programme is based on the philosophy that high-quality, safe, and continually improved health care is dependent on efficient and effective leadership at local, national and international levels, and that nurses and midwives can and should play an increasingly influential leadership role at all levels.
As part of this programme, over three weeks in May, 45 senior nurse leaders from Romania attended a two-day workshop in RCSI to learn first-hand about nursing and midwifery leadership in Ireland across the domains of policy, practice, education and research.
Delegates heard from NMBI, and also from colleagues from the WHO, the National Clinical Leadership Centre for Nursing and Midwifery, the Office of the Chief Nurse, clinical colleagues based in Beaumont Hospital, the European Centre for Research Excellence in CPD based in the Faculty of Nursing and Midwifery, Older Persons Services, the National Critical Care Programme, the Irish Association of Directors of Nursing and Midwifery, and the RCSI Hospital Group amongst others.
The delegation was also visited by His Excellency Dr Laurenţiu-Mihai Ştefan, Romanian Ambassador to Ireland.
NMBI Director Carolyn Donohoe said: "NMBI is always keen to learn about best practice in other countries and is also keen to share the Irish perspective of the professions with other countries, in particular with colleagues from other European Union countries.