| | |
| --- | --- |
| | May 2022 | Issue 068 |
NMBI President Meets the Namesake She Cared for 29 Years Ago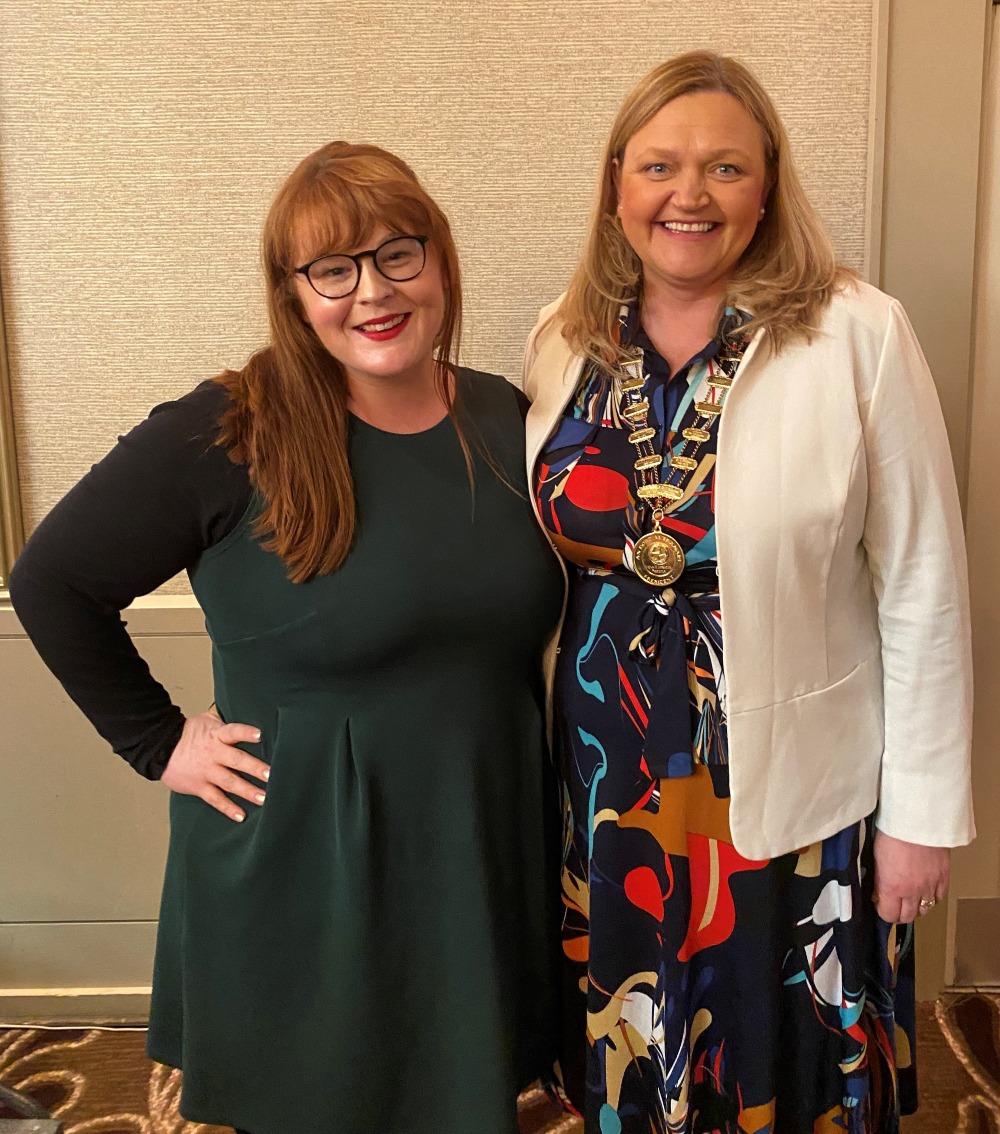 Pictured (left to right): Katie Essene Deevy and NMBI President, Essene Cassidy
Nursing and Midwifery Board of Ireland (NMBI) President, Essene Cassidy has come face to face with the infant she cared for as a student nurse – and who was named after her – 29 years later.
Essene was attending a general practice nurse conference in Waterford when fellow nurse Katie Essene Deevy introduced herself.
Needless to say, the two nurses were thrilled to meet face-to-face after almost three decades.
Katie explained: "My mam was in labour and I was her first pregnancy in March 1993. She remembers Essene taking over care from another nurse. She remembers that Essene was so kind, patient and understanding and how it made her feel so at ease.
"Mam was also pretty sure Essene was due to finish up her shift, but hung on overtime just to look after mam and I. It was all because of those reasons that she decided that she would name her baby after Essene due to all her kindness and excellent nursing."
Whatever happened back then, Essene's bond paid off as Katie went on to become a nurse herself.
Katie, now a General Practice nurse in Blackrock, Co Dublin, said: "Throughout my nursing career, people have asked me what other nurses or healthcare workers were in my family. People were surprised when I revealed that there were none, and that I was the first.
"Regardless of that, it always stuck with me that I was named after a nurse who made such a difference to my mam, and I felt like I could always carry that with me, and treat my patients like Essene treated my mam and I."
Katie got in touch with the NMBI President a couple of years ago via social media, having worked out from the name that she was the actual nurse who had cared for her mother.
"It was so lovely when Katie got in touch and she had asked me for advice in relation to her career and of course I was only too happy to assist where I could," said Essene.
"My forename isn't that common so I was amazed to discover that Katie had been given the second name of Essene. It is such an honour.
"It was brilliant to meet Katie in person in Waterford after all these years."
Katie thinks something of that encounter as a baby with Essene rubbed off.
"Nursing actually wasn't my first choice," she said.
"I originally studied history and music. However, I volunteered for many years at a first aid organisation that allowed me to do a number of courses. I loved the idea of emergency care as a full-time job.
"I debated whether I should finish my degree and apply for graduate entry medicine afterwards, or leave early and start a career in nursing. I decided I wanted to become a healthcare provider as soon as I could, so I left my course and started in UCD as a general nursing student."
Katie added: "Nursing has given me such a phenomenal career in Ireland and other countries like Malta and Sweden. I went on to become an emergency nurse in the largest ED in the country, dual qualify as a children's nurse and complete a Masters in Global Health from Karolinska Institutet. I'm currently working in primary care and I'm currently applying for funding for my PhD studies.
"I was thrilled to meet Essene in person again after almost 30 years. It was such a sweet moment."
Essene met baby Katie Essene when she was on her midwifery specialist placement at Holles Street as part of her children's nursing.
"I am also the first nurse in my family and my career pathways are very similar. I am a Public Health Nurse and Katie is working in Primary Care GP Practice.
"I had often wondered how things worked out for Katie and her mam. It was lovely to be able to share this story with my own children and reinforce to them how your actions, particularly when doing something you love, can have such a positive impact on someone.
"I remember telling my own mother at the time about an infant being given my name and she was so emotional about it. Now it has been lovely to revisit this memory with mam and reminisce about the early days of my nursing career.
"For me the key driver throughout my career has been to treat every patient/client in the way I would want my family members to be treated and I hope that has served me well over the years."