| | |
| --- | --- |
| | January 2022 | Issue 064 |
NMBI Welcomed Indian Ambassador to Ireland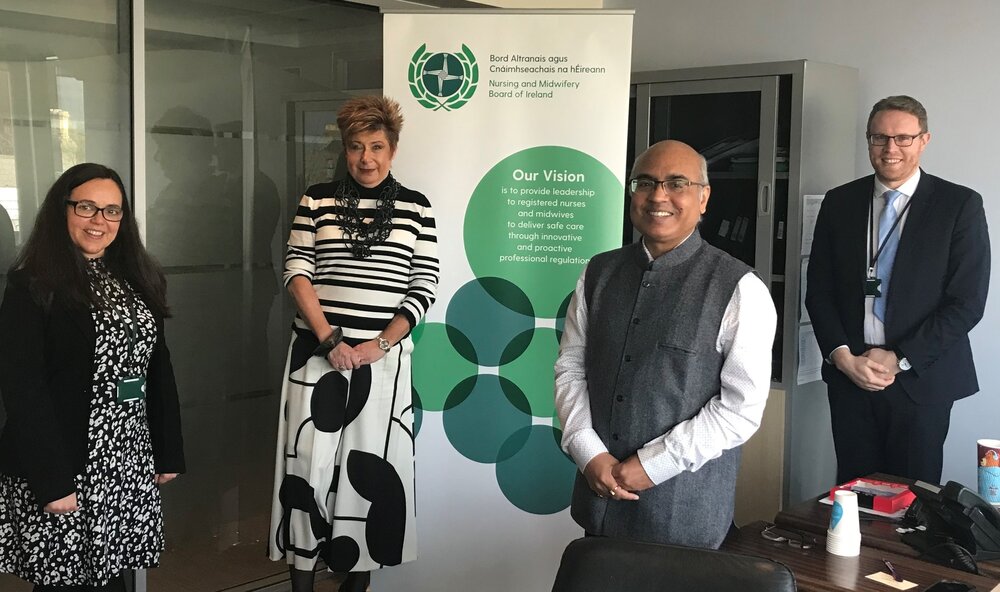 Nursing and Midwifery Board of Ireland (NMBI) CEO Sheila McClelland and senior NMBI team members welcomed the Indian Ambassador to Ireland to the regulator's County Dublin offices this month.
His Excellency Mr Akhilesh Mishra took the opportunity of the visit to discuss the contribution made to the Irish health services by Indian nurses and midwives.
Ms McClelland said: "We were delighted to meet Mr Mishra and to discuss how Indian nationals are such a vital part of the health service here in Ireland.
"We also discussed NMBI's plans to provide improved guidance to applicants from India and other non-EU countries wishing to practise as nurses and midwives in Ireland."
NMBI Director of Registration Ray Healy and NMBI Head of Operations Kathyann Barrett said the visit generated new ideas on improving NMBI's engagement with nurses and midwives from India.
Mr Healy said: "We discussed a range of new and exciting proposals which, over time, have the potential to greatly assist Indian applicants to the NMBI Register.
Ms Barrett said: "We are delighted to have the opportunity to work with the Ambassador and plan follow-up meetings with Mr Mishra and representatives of the Indian nursing and midwifery community soon."