| | |
| --- | --- |
| | Autumn Edition | Issue 070 |
Special Feature: How Supersleuth Emma Tracked Down Ireland's First Registered Midwives

The launch of 'An Bhean Ghlúine' ebook and project took place at Portiuncula University Hospital yesterday as part of National Heritage Week. The project was funded by the Heritage Council and Galway County Council.
'An Bhean Ghlúine' or woman of the knee (midwife, handywoman) was researched and developed by Emma Laffey, a volunteer with the Skehana and District Heritage Group and a valued team member working as a healthcare assistant in Portiuncula Maternity Unit.
Emma Laffey said, "I was inspired by my lived experience and seeing first-hand the work, compassion, empathy and medical intervention required for modern maternity services to keep both mother and baby safe and well.
"My project introduces the amazing work and lives of our local community midwives during the 20th century through photographs, stories, recorded interviews and film. These remarkable women supported our local women through one of the biggest life-changing events for any woman, from being pregnant to giving birth. Although a birth is generally a very happy occasion, it can also be tainted by poverty, sickness, miscarriage, mental health issues, life-changing disabilities and even death.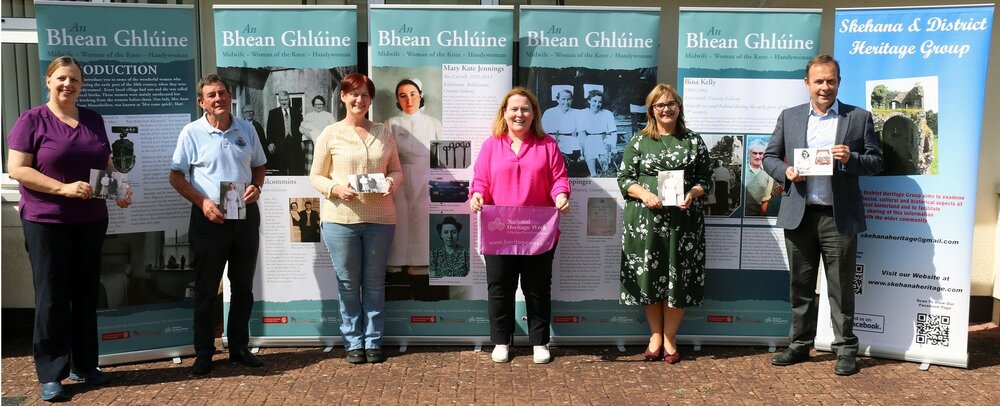 "All the project material is available to view on the Skehana and District Heritage website including an ebook with the midwives' stories and photographs; a short film about the life of Mary Kate Jennings, who was a district midwife serving the Ballinasloe area in the 1940/50s; some voice recordings from local people and families chatting about their experience with their local midwife, including Kathleen Ward who talks about the traveller community and traditions around pregnancy and birth.
"I am so grateful to all the families that gave so generously of their time with interviews and sharing family memorabilia that made this project possible. The real heroes of this project are 'an bhean ghlúine' or woman of the knee."
Deirdre Naughton, Director of Midwifery, at Portiuncula University Hospital said, "In the Maternity Unit we are delighted to support this fascinating historical project by launching it here today. Emma's project will contribute significantly to the wealth of existing knowledge regarding the role of the midwife through the ages and I am very proud of her work. It is fascinating to see how the role of the midwife has evolved; the ancient art and science of midwifery that always has had quality and safety as its central tenant."
Marie Mannion, Heritage Officer, Galway County Council said, "I would like to commend Emma Laffey, Skehana and District Heritage Group for undertaking this very important heritage research project. Emma's work allows us to gain a greater awareness, knowledge and understanding of the vital role played the 'Bhean Ghlúine' or local midwife in her local community. It also gives us a greater insight into the lives of these women and our communities in the past."
The ebook and other research materials are available to view on the Skehana and District Heritage website.