| | |
| --- | --- |
| | May 2022 | Issue 068 |
NMBI President Launches updated Practice Standards for Midwives on International Day of the Midwife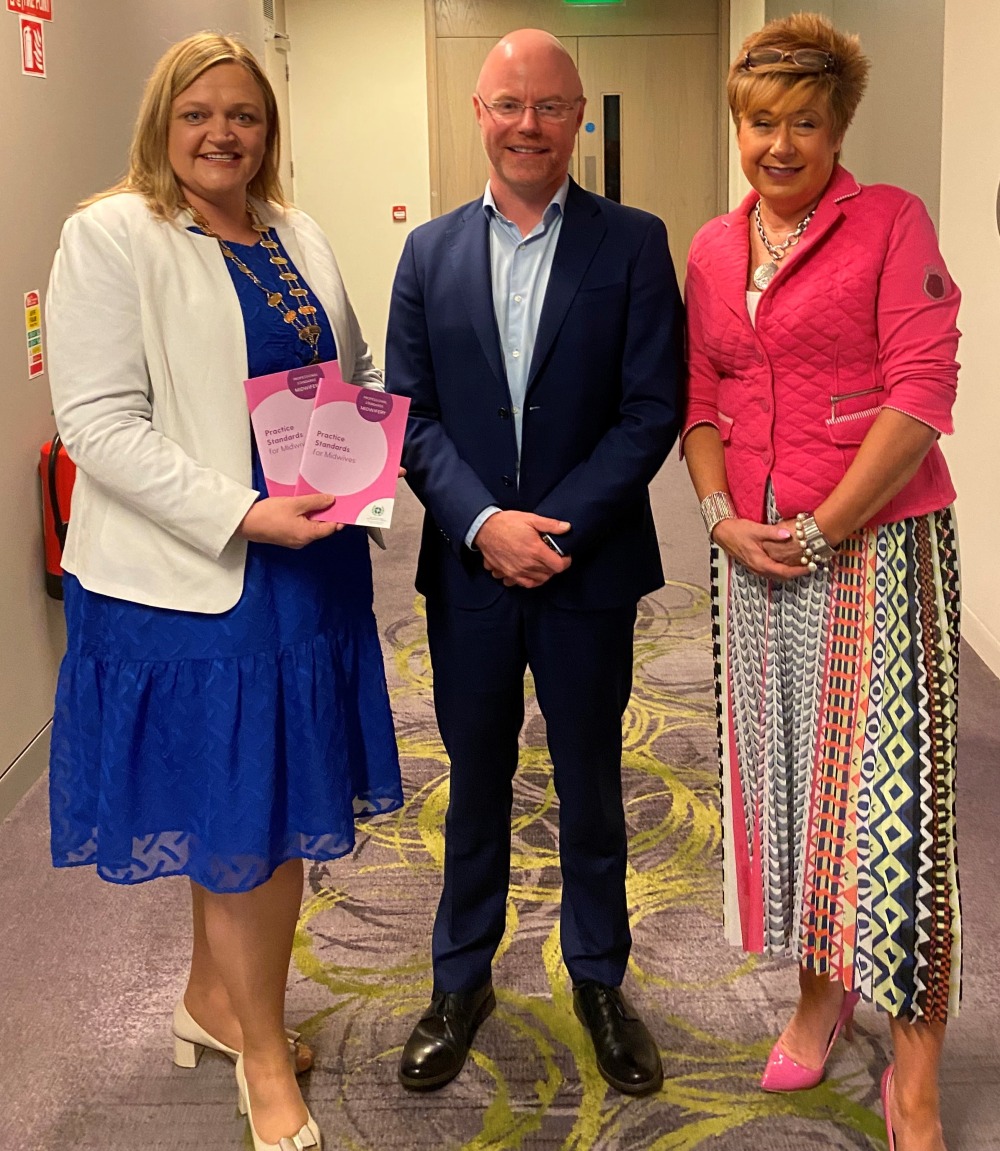 Pictured (left to right): NMBI President, Essene Cassidy, Minister for Health, Stephen Donnelly and NMBI CEO, Sheila McClelland at the launch of the 2022 updated Practice Standards for Midwives in Dublin
The Nursing and Midwifery Board of Ireland (NMBI) launched the updated Practice Standards for Midwives on 5 May, the International Day of the Midwife.
The updated document, which sets the standards of midwifery care, was launched at the National Midwifery Conference in Dublin by NMBI President Essene Cassidy.
The first edition of the Practice Standards for Midwives was developed in 2015 and Ms Cassidy said it was timely that NMBI updated this important document to ensure that it is reflective of legislative and societal changes.
"The Director of Midwifery and the Midwives Committee of the Board of NMBI have worked with key stakeholders to make the revisions that successfully assist the midwifery profession in the delivery of services to women and their families," Ms Cassidy told the conference.
The NMBI President thanked the stakeholders whose engagement helped shape this document.
"NMBI can only deliver change in policies or practices with the engagement with key partners," said Ms Cassidy.
She added that "it is appropriate that we have chosen the International Day of the Midwife to launch this important document, further enhancing the midwifery profession for the years ahead."
The NMBI President, along with NMBI CEO Sheila McClelland, also paid tribute to all midwives in Ireland on the International Day of the Midwife.
This year – 2022 – marked 100 years since the foundation of the International Confederation of Midwives (ICM), the international organisation which leads celebrations of the day in 120 countries.
Ms McClelland said, "midwives provide a phenomenal service to women, their babies and their families 24 hours a day, every day of the year".
"Over the past two years midwives have adapted to the changes presented by the pandemic and have used innovation and new technology to improve the services they provide," said Ms McClelland.
NMBI Director of Midwifery Dawn Johnston, also paid tribute to midwives for the care and compassion they demonstrate.
"Today is about celebrating the midwifery profession and I do hope that as many midwives as possible get time to celebrate it in some way."
Meanwhile CEO, Ms McClelland also issued a video message congratulating midwives. You can see her contribution to a HSE video reel here.
Ms Johnston's message to midwives on 5 May can be read in full here.