| | |
| --- | --- |
| | October 2022 | Issue 071 |
News Round

The National Maternity Bereavement Experience Survey closes 31 October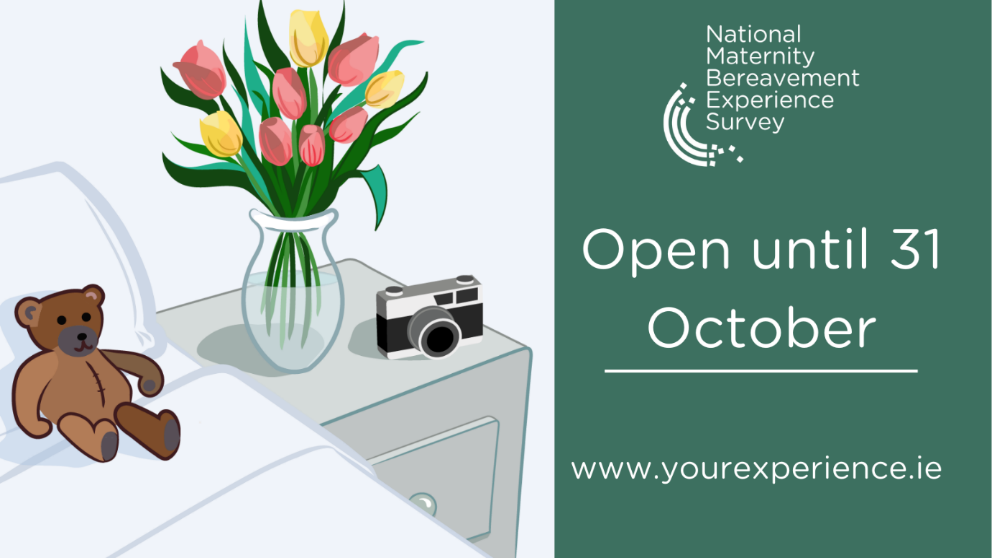 The National Maternity Bereavement Experience Survey is currently underway. It aims to give a voice to parents bereaved by pregnancy loss and drive improvements in the standard and quality of maternity bereavement care in Ireland.
It is the first national survey asking women and their partners about the bereavement care they received in an Irish hospital following a pregnancy loss or perinatal death.
Women and their partners who experienced a second trimester miscarriage, the stillbirth of baby or the early neonatal death of a baby between 1 January 2019 and 31 December 2021 and received care in an Irish maternity hospital or unit can fill out the survey. The survey closes on 31 October 2022.
The survey is being carried out by the National Care Experience Programme - a partnership between the Health Information and Quality Authority (HIQA), the Health Service Executive (HSE) and the Department of Health.
To find out more about the survey and the eligibility criteria, please click here.
Healthcare workers encouraged to avail of seasonal flu vaccine
The Minister for Health Stephen Donnelly, the Chief Nursing Officer, Rachel Kenna and the Chief Medical Officer, Professor Breda Smyth have encouraged everyone to get their flu vaccine this winter season.
The Department of Health reports that over 600,000 flu vaccines have been administered so far season. Speaking as he received his vaccination, Minister for Health, Stephen Donnelly said: "I warmly welcome the positive uptake of flu vaccine we have seen since the HSE launched the programme earlier this month. We know that vaccines offer good protection from both Covid-19 and seasonal flu, and I urge everyone eligible to avail of this opportunity as soon as possible. The vaccine is also available free of charge to healthcare workers. It is really important that our healthcare workers take every step possible in order to protect themselves from viruses like flu this winter."
Recommended groups are encouraged to get their free flu vaccine. This includes people who are:
aged 65 years and older

aged 2 to 17 years (can get a nasal spray flu vaccine)

a healthcare worker

pregnant

living in a nursing home or other long-term care facility

have a certain underlying health condition.
Recommendations to address shortage of carers in home support and nursing homes
On 15 October, Minister of State for Mental Health and Older People, Mary Butler published the Report of the Strategic Workforce Advisory Group on Home Carers and Nursing Home Healthcare Assistants. The report outlines 16 recommendations to the workforce challenges in front-line carer roles in home support and nursing homes. The recommendations are set out under the headings of:
Recruitment

Pay and conditions of employment

Barriers to employment

Training and professional development

Sectoral reform

Monitoring and implementation
The full report can be read here.
Menopause education and awareness resource launched
The Government of Ireland launched a new campaign on Menopause Awareness Week to inform, educate and 'lift the taboo' around menopause.
The new campaign, accompanied by national advertising, aims to support people in Ireland to know more about menopause, whether that means understanding their own symptoms or supporting a loved one, friend or colleague through their menopause.
Research cited by the Government states that less than 20% of women currently experiencing menopause/perimenopause today describe it as a positive experience. Furthermore, it reports that 82% of people agree that menopause is not openly discussed.
For more information, please click here.